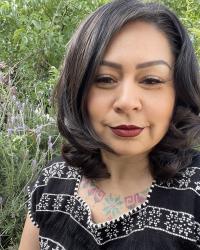 Contact Information
Biography
PhD Sociocultural Anthropology, University of Washington, 2023
M.A. Sociocultural Anthropology, University of Washington 2013
M.A. Mexican-American Studies, 2009
B.A. Gender, Ethnic and Multicultural Studies, 2006
Dr. Claudia Serrato is an influential Indigenous culinary anthropologist, public scholar, professor, and traditional plant-based chef dedicated to Indigenous culinary heritage and food justice. Her journey, rooted in the Mesoamerican culinary traditions of East Los Angeles, began in her family kitchen, where cooking with elders instilled a deep respect for Indigenous foodways, shaping her professional and academic paths. In 2007, Claudia identified a critical need to decolonize diets to preserve Indigenous culinary epistemologies, foods, and foodways. This revelation launched her into public scholarship, culinary activism, and community engagement. By 2008, she expanded her influence through private chef services, pop-up events, and catering, using these platforms for advocacy and education on Indigenous food sovereignty.
Her commitment deepened in 2014 with her active role in the Native food justice and sovereignty movement. She collaborated with renowned Indigenous chefs and contributed to cultural food gatherings across Turtle Island (North America), emphasizing activism and community solidarity. Claudia's efforts gained recognition when the Native American Culinary Association (NACA) honored her with the title of sous-chef de cuisine in 2015. Her standing in the culinary academic community was further highlighted in 2018 when she was featured at the Agriculture, Food, and Human Values Society and the Association for the Study of Food and Society.
Claudia's influence transcends academic and culinary circles, appearing on platforms like Feminist Magazine, Animal Voices, Toasted Sister, Native American Calling, NPR Good Food, and For the Wild. Esteemed publications and media outlets, including the LA Times Food Bowl, LA Ford Philharmonic Ass., New York Times, New York Times Cooking channel, ABC Primetime, Univision, Popsugar, LATV, and Telemundo's "Inspirando a América," have featured her work, attesting to her thought leadership in Indigenous food justice.
In 2017, Claudia co-founded Across Our Kitchen Tables, dedicated to empowering women of color in the culinary industry, reflecting her commitment to community building and social justice. Claudia continues her multifaceted role, teaching at California State University (CSU), conducting research with the First Nations Development Institute, and offering consulting services. Her work is a testament to culinary traditions' power in cultural preservation, social justice, and community healing. Claudia's scholarly journey is foundational to her holistic approach. She holds a Bachelor's degree in Gender, Ethnicity, and Multicultural Studies, a Master's in Chicano/a Studies, and a Master's in Anthropology, culminating with a Ph.D. in Sociocultural Anthropology from the University of Washington, Seattle. These academic milestones shape her unique approach to culinary anthropology, underscoring the importance of decolonizing diets and rejuvenating Indigenous foodways.
Spring 2023
Spring 2022
Summer 2021
Spring 2021
Additional Courses
University of Washington 
Anthropology of Food and Culture (Winter 2012) 
Decolonizing the Diet: Towards an Indigenous Veganism? (Autumn 2014)
Indigenous Food Revitalization in the Public School Classroom (Autumn 2014)
Anthropology Through Visual Media (Spring 2013)
Medical Anthropology and Global Health (Winter 2013)
Introduction to Environmental Anthropology (Autumn 2012)
Identities: Race, Class, Gender and Sexuality in Anthropology (Spring 2012)
Professional Affiliations
American Anthropological Association (AAA), Critical Ethnic Studies Association (CESA), National Association for Chicana and Chicano Studies (NACCS), Native American and Indigenous Studies Association (NAISA)