Field Methods in Indigenous Archaeology is a community-based participatory research project that involves the Confederated Tribes of Grand Ronde Community of Oregon (CTGR), the CTGR Tribal Historic Preservation Office (THPO), and the University of Washington. The CTGR THPO is responsible for a variety of tasks related to the care and management of tribal cultural resources. These resources are integral to tribal heritage and include archaeological and ancestral sites, sacred places, and traditional cultural landscapes. The overarching goal of our collaboration is to contribute to the capacity of the CTGR THPO to manage tribal heritage on the Grand Ronde reservation, which is located in western Oregon, approximately 60 miles SW Portland.
Please visit our Facebook Page for regular updates and project photos: https://www.facebook.com/FMIA2015
FMIA is now accepting applications for the 2019 summer field school! Join us for five weeks in Grand Ronde, OR, and learn about tribal historic preservation, community-based research methods, and archaeological field techniques.
Apply at: tinyurl.com/ycra7vgq
Priority deadline for applications is March 15.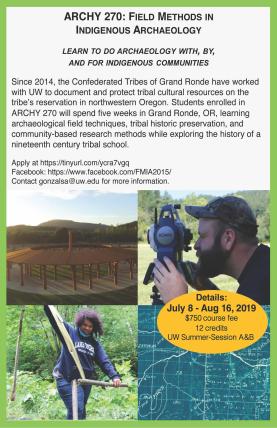 Complete Program Information