Submitted by Catherine M. Zeigler on
The last two years have been a productive and exciting time for several anthropology UW PhD alumni. Congratulations to the following alumni who have published books in the last two years. We are very proud of your contributions to the field of anthropology.
Lisa Meierotto (PhD 2009), Assistant Professor in the School of Public Service at Boise State University, is the most recently published with her book, Immigration, Environment, and Security on the U.S.-Mexico Border, through Palgrave McMillion in 2020.
Palgrave Macmillion publisher notes:
"This book examines the convergence of conservation and security efforts along the U.S.-Mexico border in Arizona. The author presents a unique analysis of the history of Cabeza Prieta National Wildlife Refuge, a federally protected border wilderness area. Beginning in the early 1990s, changes to U.S. immigration policy dramatically altered the political and natural landscape in and around Cabeza Prieta. In particular, the increasing presence of Border Patrol has contributed to environmental degradation in wilderness. Complicated human rights concerns are also explored in the book. Protecting wildlife in an area with high rates of undocumented border-crossing and smuggling results in complex and sometimes controversial conservation policies. Ultimately, the observations and analysis presented in this book illustrate ways in which the politics of race and nationalism are subtly, but significantly, interwoven into border environmental and security policies."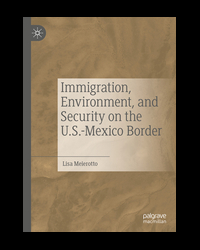 Megan Styles (PhD 2011), Assistant Professor of Environmental Studies at the University of Illinois Springfield, has written a new book entitled, Roses From Kenya, published through the University of Washington Press in December 2019.
University of Washington Press publisher notes:
Kenya supplies more than 35 percent of the fresh-cut roses and other flowers sold annually in the European Union. This industry—which employs at least 90,000 workers, most of whom are women—is lucrative but enduringly controversial. More than half the flowers are grown near the shores of Lake Naivasha, a freshwater lake northwest of Nairobi recognized as a Ramsar site, a wetland of international importance. Critics decry the environmental side effects of floriculture, and human rights activists demand better wages and living conditions for workers.
In this rich portrait of Kenyan floriculture, Megan Styles presents the point of view of local workers and investigates how the industry shapes Kenyan livelihoods, landscapes, and politics. She investigates the experiences and perspectives of low-wage farmworkers and the more elite actors whose lives revolve around floriculture, including farm managers and owners, Kenyan officials, and the human rights and environmental activists advocating for reform. By exploring these perspectives together, Styles reveals the complex and contradictory ways that rose farming shapes contemporary Kenya. She also shows how the rose industry connects Kenya to the world, and how Kenyan actors perceive these connections. As a key space of encounter, Lake Naivasha is a synergistic center where many actors seek to solve broader Kenyan social and environmental problems using the global flows of people, information, and money generated by floriculture.
Jennifer J. Carroll (PhD 2015) Assistant Professor of Anthropology at Elon University and Adjunct Assistant Professor of Medicine at Brown University, in June 2019 had her book entitled, Narkomania: Drugs, HIV, and Citizenship in Ukraine, published through Cornell University Press. Dr. Carroll is also a recent subject of Anthropology, actually.
Cornell University Press publisher notes:
Against the backdrop of a post-Soviet state set aflame by geopolitical conflict and violent revolution, Narkomania considers whether substance use disorders are everywhere the same and whether our responses to drug use presuppose what kind of people those who use drugs really are. Jennifer J. Carroll's ethnography is a story about public health and international efforts to quell the spread of HIV. Carroll focuses on Ukraine where the prevalence of HIV among people who use drugs is higher than in parts of sub-Saharan Africa and unpacks the arguments and myths surrounding medication-assisted treatment (MAT) in Ukraine. What she presents in Narkomania forces us to question drug policy, its uses, and its effects on "normal" citizens.
Carroll uses her findings to explore what people who use drugs can teach us about the contemporary societies emerging in post-Soviet space. With examples of how MAT has been politicized, how drug use has been tied to ideas of "good" citizenship, and how vigilantism towards people who use drugs has occurred, Narkomania details the cultural and historical backstory of the situation in Ukraine. Carroll reveals how global efforts supporting MAT in Ukraine allow the ideas surrounding MAT, drug use, and HIV to resonate more broadly into international politics and echo into the heart of the Ukrainian public.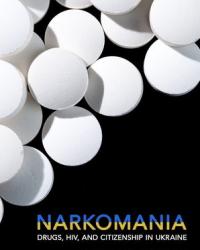 Teresa Mares (PhD 2010), Associate Professor of Anthropology at the University of Vermont, had her book, Life on the Other Border: Farmworkers and Food Justice in Vermont, published in April 2019.
University of California Press, press release describes the book as follows:
"In her timely new book, Teresa M. Mares explores the intersections of structural vulnerability and food insecurity experienced by migrant farmworkers in the northeastern borderlands of the United States. Through ethnographic portraits of Latinx farmworkers who labor in Vermont's dairy industry, Mares powerfully illuminates the complex and resilient ways workers sustain themselves and their families while also serving as the backbone of the state's agricultural economy. In doing so, Life on the Other Border exposes how broader movements for food justice and labor rights play out in the agricultural sector, and powerfully points to the misaligned agriculture and immigration policies impacting our food system today."
Kathleen Adams (PhD 1988) Professor of Anthropology at Loyola University-Chicago, and Adjunct Curator at the Field Museum of Natural History had two books come out in 2019. Indonesia: History, Heritage, Culture (March 2019) published with Association for Asian Studies and can be through Columbia University Press. To learn more about what sparked Dr. Adams' interest in Indonesia, you can read an interview about it on the Association for Asian Studies website. 
Columbia University Press publisher notes:
Indonesia: History, Heritage, Culture offers a concise, engaging introduction to the historical, political and cultural dynamics of Indonesia, the world's fourth most populous nation and home to the world's largest and most diverse Muslim population. Interweaving brief, anthropologically-informed stories of aspects of everyday life in Indonesia with broader historical accounts of this region, Indonesia: History, Heritage, Culture provides textured insights into this vibrant and dynamic archipelago.
Inter-cultural encounters and exchanges as well as globalization are central to Indonesia's story. Adams organizes the book historically, yet each chapter spotlights how the past resonates in contemporary times. Each chapter open with an image or object that lends insights into a particular era in Indonesia's history. Chapters highlight Indonesia's natural landscape, linguistic and cultural diversity, prehistory, eras of Hindu, Buddhist, and Islamic influence, as well as Chinese and European precolonial trade dynamics. Also addressed are the rise of Dutch colonialism in the archipelago, the Japanese Occupation during World War II, and the struggle for Indonesian independence. Additional chapters cover Indonesia's more recent periods of Guided Democracy, the New Order, and Reformasi, and the final chapter reflects on Indonesia's current challenges and promises for the future.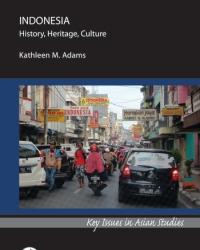 Dr. Adams's second book is entitled, The Anthropology Tourism: Edward Bruner and Beyond (Co-edited), published by Rowman & Littlefield in October 2019. 
Rowman & Littlefield publisher notes:
What does it mean to study tourism ethnographically? How has the ethnography of tourism changed from the 1970s to today? What theories, themes, and concepts drive contemporary research? Thirteen leading anthropologists of tourism address these questions and provide a critical introduction to the state of the art. Focusing on the experience-near, interpretive-humanistic approach to tourism studies widely associated with anthropologist Edward Bruner, the contributors draw on their fieldwork to illustrate and build upon key concepts in tourism ethnography, from experience, encounter, and emergent culture to authenticity, narrative, contested sites, the borderzone, embodiment, identity, and mobility. With its comprehensive introductory chapter, keyword-based organization, and engaging style, The Ethnography of Tourism will appeal to anthropology and tourism studies students, as well as to scholars in both fields and beyond. 
Michele Statz (PhD 2014) Assistant Professor in the Department of Family Medicine and Biobehavioral Health at the University of Minnesota Medical School, Duluth campus, published her new book entitled, Lawyering an Uncertain Cause: Immigration Advocacy and Chinese Youth, through Vanderbilt University Press in July 2018. Dr. Statz is also a recent contributor to Anthropology, actually. 
Vanderbilt University publisher notes:
Each year, a number of youth who migrate alone and clandestinely from China to the United States are apprehended, placed in removal proceedings, and designated as unaccompanied minors. These young migrants represent only a fraction of all unaccompanied minors in the US, yet they are in many ways depicted as a preeminent professional and moral cause by immigration advocates.
In and beyond the legal realm, the figure of the "vulnerable Chinese child" powerfully legitimates legal claims and attorneys' efforts. At the same time, the transnational ambitions and obligations of Chinese youth implicitly unsettle this figure. The maneuvers of these youth not only belie attorneys' reliance on racialized discourses of childhood and the Chinese family, but they also reveal more broad uncertainties around legal frameworks, institutional practices, health and labor rights—and cause lawyering itself.

Based on three years of fieldwork across the United States, Lawyering an Uncertain Cause is a novel study of the complex and often contradictory rights, responsibilities, and expectations that motivate global youth and the American attorneys who work on their behalf.