Submitted by Catherine M. Zeigler on
Wayne P. Suttles received a doctorate in anthropology from the University of Washington in 1951 — the first doctoral degree awarded by the program — for his dissertation entitled, "Economic Life of the Coast Salish of Haro and Rosario Straits" and was inducted into the Northshore School District Wall of Honor at a special ceremony on August 18, 2016.
Suttles graduated from Bothell High School in 1937 and attended the University of Washington, completing a bachelor's degree in 1941. He joined the Navy as a language officer during World War II, translating Japanese dispatches, and after the war returned to Washington and to his studies. His ethnographic and linguistic research among the Coast Salish people made him a leading authority and historian of the Pacific Northwest and an influential advocate for native land rights.
He started his career as faculty at the University of British Columbia. He moved to the University of Nevada-Reno and finally to Portland State University where he retired in 1985. As a researcher, his book Musqueam Reference Grammar is said to be the most linguistically comprehensive study of a Coast Salish language. Suttles passed away in 2005.
Cameron Suttles accepted the award on behalf of his father. The elder Suttles joins Dale R. Croes, PhD, a fellow anthropologist who obtained a bachelor's degree from the University of Washington in 1969, on the Wall of Honor.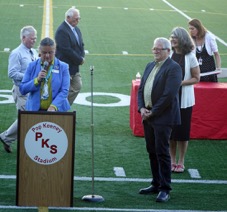 Cameron Suttles, August 18, 2016. Photo by Dale Croes.